No genocide on our watch!
Even the smallest contribution can save lives.
Ethiopia is a land of majestic history, colorful diversity, and heroic people. It is a country that has hosted both Islam and Christianity since long before these religions were even known beyond the Middle East, a country that defeated colonialists decisively, and has been a melting pot of diverse cultures and languages. It is a country that has come to be known as a Promised Land for blacks across the globe. However, with the introduction of the digital age and the accompanying intense global competition to control the region, the country is under assault from multiple fronts, with the objective of destabilizing and fracturing it. Presently, ethnically- motivated genocidal violence is widespread, and an anachronistic constitution is tearing apart the fabric of the country that has bound the people together for generations.
Over the last three years, members of the Amhara ethnic group and followers of the Ethiopian Orthodox church have incessantly faced genocide, crimes against humanity, and internal displacements. Consequently, OTAGE has entered into an agreement with an international legal firm specializing in international crimes and has thus begun the process of bringing to international justice the perpetrators of genocide and crimes against humanity in Ethiopia. It is hoped that the measures now taken to bring those responsible for such crimes to justice can serve as a means of prevention, and possibly open a door for the participation of all Ethiopians to assemble peacefully and chart a new future to this troubled country. (About OTAGE…)
The disinformation and manufactured history by the internal enemies of Ethiopia, supported by external elements, is so systematic and intense that the unemployed and uneducated youth and other sectors of society in the Oromia,  Benishangul- Gumuz, and Northern Shewa regions have caused incalculable death and destruction against minority groups in these areas. Mostly hidden from the international community, the brutalities in rural Ethiopia are unprecedented in the history of the country and eerily reminiscent of the Rwandan genocide.
As such, we call the international community to strongly condemn these massacres, and urge the Ethiopian Government to protect civilians from future attacks, and for Ethiopians to come together and pursue genuine long-term political reform to stabilize the country.
The ongoing genocide . . .
       I grew up in Ethiopia under a socialist regime. We used to watch a lot of movies from the soviet empire. A lot of movies on the 2nd world war and the Jewish Holocaust. I remember how shocked I was to see other people in Germany ignored or assisted in the genocide. Children crying while their friends were taken away,  
Government Supported Genocide
There is a hiden bond between Oromo higher officials and Oromo extrimists rebel groups. These Oromo Extrimists are supported by government officials and they have full access to different kinds of facilities including military training and logistic suply fore example transport facilities, food consumption internet, computer mobile services and high level guns. In order to fulfill their financial requirements; more than government 20 Banks were robbed in 2018/2019 by these Oromo Rebel groups. The government did not take any action against these groups. As you can see in the following pictures full acces to everything eventhough they are in the bush. They move freely to different places inroder to damage innocent people.
Machetes imported from China
Machetes were legally imported from China and distributed in the southeast of the country, in Harrar. This is the 2nd importation of this kind. 
This is another evidence showing that they have sufficient ammunition and have a regular supply.
Transportation to and from the area that they attack. 
They are also connected to their chiefs through internet. 
They have the exact same weapon and uniform as the Prime Minister's special force. 
Well organised food rations
This is another evidence showing that they have sufficient ammunition and have a regular supply.
Collaborate with Authorities
Work closely with the local force, police and Ethiopian defence forces. No fear what so ever to show their faces on the social media. 
This video is not for children and sensitive people. There are graphic images of the ongoing horrendous Amhara Genocide victims.
There is ongoing genocide right now. Our main and urgent objective is to stop these killings. We need to organize several awareness-creating campaigns to get international support.
Once the genocide is over then we can start rehabilitation and restoration of the Amhara Community in Ethiopia.
20th May 2021, 12:30 - 14:30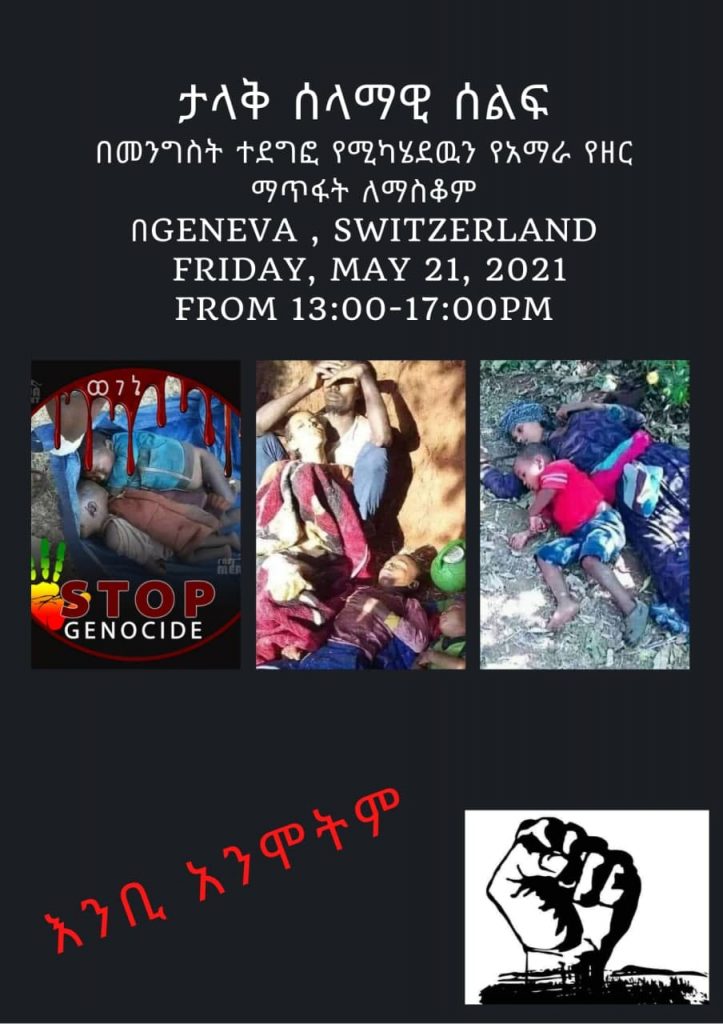 A genocide is happening right now in Ethiopia. People are crying out for help. The only thing they want is to live. They are crying out for justice. But the government that is supposed to keep them safe is sponsoring this genocide. Here are the stories of some of the victims.
We are ready to answer all your questions and help you find the best way to help. 
Choose a plan which is suitable for you.
This is a yearly membership fee for individuals who would like to support the efforts of the Stop Amhara Genocide Association in Switzerland to create awareness about the Amhara Massacre in Ethiopia.
This is a yearly membership fee for Amhara Associations and Civic organization who would like to support the efforts of the Stop Amhara Genocide Association in Switzerland to create awareness about the Amhara Massacre in Ethiopia.
Please join the campaign. It will save lives.